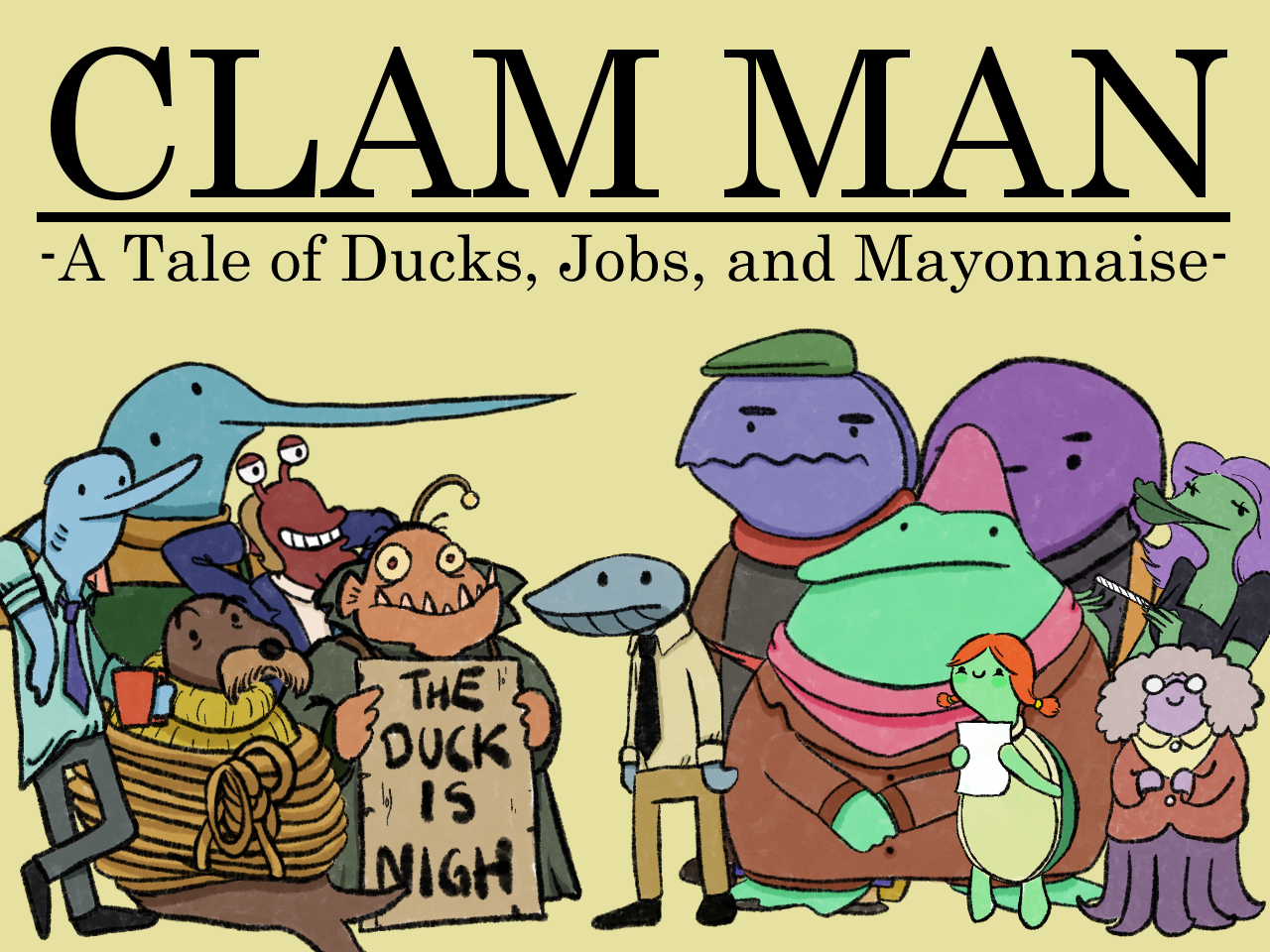 Clam Man Demo Edition (Full game out now!)
Check it out! Clam Man is out on Itch.io, and releasing on Steam on May 23rd!
CHECK THAT CLAM OUT
THE DEMO HAS BEEN UPDATED WITH NEW FEATURES AND NEW COOL ART! CHECK IT OUT!
Clam Man is a game about the Clam Man. He was originally called just Clam Man, but then we started calling him THE Clam Man like he was Batman or something. He isn't. I love when they refer to Batman as THE Batman by the way. Sounds way cooler.
Anyway, this is a game about THE Clam Man. He recently got promoted, now working as a junior sales representative at Snacky Bay Prime Mayonnaise. Snacky Bay is the town where the Clam Man lives. That's just a bit of lore for you. It's called worldbuilding, ever heard of it, ya dingus? Haha just kidding. You're a cool dude for checking out this game. You're no dingus.
Anyway, this day is going to turn out like no other for the Clam Man. You got to believe me on this, my friends. Things are going to go DOWN. Just play the demo and you'll see what I mean. It's nuts.
* * *
NOTES: Playing in the browser window may obscure the inventory drawer in the top of the screen. Go full screen to get a better view!
//Team Clam
Follow us on twitter @Clam_Team https://twitter.com/clam_tea
Comments
Log in with itch.io to leave a comment.
I'm buying this game for the Dunkey reference
I loved this game, I also made a video of me playing it on my youtube channel, Check it out if you like!
bless, i shall get a job, my sole purpose to give to the development of this game, keep going lads!
The right button didn't work for me. I am playing in a Chrome browser on an macbook air (using the touch pad). Didnt work neither in full screen mode or windowed mode.
Thanks for letting us know! We're currently having issues with the online version for mac, so we'll try to add the mac files to the page so you can download it! As far as we've tested, only the online version is struggling with mac, so this should solve it.
Y'all this was incredible! I laughed the whole way through, really great humor.
Decided to go ahead with the video, but I may switch it with a new one when the update comes out. Really loving it so far!
Note: if you thought the voices were harsh and annoying before, you're in for a rough ride with this video.
Oh dude, this is great. This is the first time we got to see a complete stranger playing the game! You really made the whole team's day with this!
Also I grew used to your Clam Man-voice and that's kinda how he sounds in my head now.
Thanks so much!! Let us know if you do a version of the updated demo!
Well, shoot. My right click doesn't work on my mouse. Oh well. I'll give it a go when I get it working again. Looks nice though, love the art!
Oh damn! We've actually been thinking of rewriting the mouse interaction to map it to one button, but so far having both left and right has been easier. Maybe that'd be at thing for us to look into though. Anyway, thanks for your comment, and hope you get a chance to try it out! <3 smoochie smooch kissie kiss come here you <3
I really enjoyed it, but the sounds the characters made were really annoying towards end. Too loud and too harsh.

Hey dude! We changed the voices, let us know what you think of the new ones! And thanks so much for playing!
Voices are waay better now in the new version, good job!

I had quite a few laughs and enjoyed the game alot. Hopefully i will see more soon!!